01.10.2005
Get ready for REEL Music!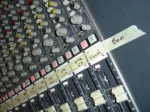 This week end is studio time!
Get ready for REEL music!
Editing & Mixing are the main tasks. They will allow us to make a huge step into the finalisation of the album "Lithium"
You will have some INSIDE news from the studio, almost LIVE, in order to know and follow what is going on in there!
REEL is proud of the job done until so far and now the main wish is to achieve the final version mixed of the album!
Stay tuned, the music is coming!
LET REEL ROCK YOU!
REEL WEB