07.10.2005
Maximum Overdrive!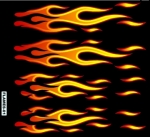 To you all sorry for the delay of the news but right now it is maximum overdrive time within the REEL team! This weekend will be awesome! We will see where the CD will be produced, we will see the mastering office and discuss a few things with the mastering engineer and we will be back in the studio to continue to slice, cut and mix the album! Also today we will pretty much be involved in the artwork which is starting to look great. We have chosen now all the elements in order to attack the concept of the booklet which will come along with the CD. So right now so mush to do! Also we thank you already for your presence and patience, many good things are coming!
Toute l'équipe de REEL est sous maximum overdrive en ce moment et nous nous excusons du retard dans le partage de l'information. Ce weekend sera gigantesque! En effet nous irons voir où le CD sera produit, nous irons également voir l'endroit magique où l'album sera mastérisé et surtout nous serons de nouveau dans le studio pour terminer le slicing, le cutting et le mix de l'album! Vous pouvez donc vous imaginer le boulot qui est devant nous. La tâche est énorme mais nous sommes si proches du but! Aussi du côté artistique nous tournons au maximum avec la pochette et le livret. Tous les choix sont faits, il ne reste que mettre tout cela ensemble! Tant de bonnes choses arrivent et sont devant nous!
Thank you to tall and stay tuned! REEL is the best place to be!
REEL WEB