26.09.2005
Avant le mix ...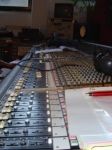 Avant le cocktail soit parfait, avant que le mix final de l'album atteigne son apogée, il est nécessaire de réécouter minutieusement toutes les bandes, toutes les pistes enregistrées pour clairement définir la sélection définitive!
Before the final mix, it is necessary to listen to all tracks recorded and search for mistakes etc ... This is a very long process! Takes hours and hours of listening in order to be sure that no mistakes enter the final mix!
Ce processus est lent et fatidieux, il consomme beaucoup de temps et ne présente pas grand intérêt pour vous les fans! mais il doit avoir lieu pour offrir la meilleure qualité possible pour le mix final!
Mixing is like blending - If you put a rotten fruit in your blender then the cocktail will be disgusting and we want to avoid that in order to give you the best quality mix ever!
Listen to the music and let your body rock! Some togh work right now but all members of the band go through it and give their best!
Tout le monde se donne à fond dans cette dernière ligne droite avant le gros moment du mix!
Stay tuned!
REEL WEB