25.09.2005
Circus!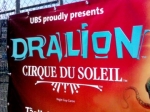 The circus is in town!
En effet le Cirque du Soleil était de passage dans la région avec son nouveau spectacle Dralion. Un show absolument superbe, à ne pas manquer sous aucun prétexte!
DO NOT MISS IT!
La qualité principale de ce cirque est de mêler émotions visuelles & émotions sonores. Un très grand mélange entre les numéros d'artistes, de la musique rock (ou du moins à tendance rock) plus un show visuel digne du nom. Les artistes savent tout faire ce qui rend le spectacle encore plus exceptionnel!
Very intense show indeed! Great artists - The numbers are just fantastic high in color!
Cette année le cirque a donné la priorié au cirque chinois! Les rois de la torsion, des sauts et autres jongleries! Epoustouflant! Breath taking!
When you are thinking about your future live show which will be the case of REEL, you look for ideas on what you can do on stage in order to offer your best to the public! Well the Cirque du Soleil is a great aplce to learn a lot!
Really and go and see the show! Ne ratez pas ce spectacle unique!
REEL WEB