02.02.2013
"Killing Tuesday" is REEL's new single, available February 16th, 2013 !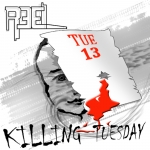 Bonjour tout le monde!
Enfin .. après des mois de travail de post-production le résultat est enfin là!
En effet le 16 février 2013, le nouveau single de REEL "Killing Tuesday" sera disponible sur toutes les plateformes de téléchargements musicaux avec un lancement mondial donnant le coup d'envoi à une grande année 2013 avec la sortie de l'album "montsroso".
En avant première voici la pochette du single!
Sinon retrouvez nous ici le 15 février pour entendre le morceau qui sera dévoilé en avant première mondiale en mode streaming ... :-)
Au 15.02 ...
REEL WEB
Hello to you all!
After months spending in post production, we are finally finished and ready!
Indeed on February 16th, 2013, REEL will launch its new single "Killing Tuesday" for worldwide digital distribution on all known musical platforms. It will be the start on a great year with following the release of the new album "Montroso"
As a special gift, here you can already discover the artwork of the single :-) enjoy it :-)
Also on febraury 15th, 2013, stay tuned on the band's website to be able to stream and listen to the song
See you on the 15th :-)
REEL WEB