28.04.2012
postponed ...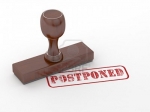 Bonjour tout le monde!
Le moment tant attendu du vendredi 13 dernier a tenu toutes ses surprises. En effet le studio de mastering où l'album devait être terminé ne s'est pas remis de l'inondation subit et les appareils étaient encore hors service. Donc les bandes de l'album sont de retour au studio colors et le groupe cherche un nouvel endroit pour finaliser le mastering de l'abum.
Donc dans la dernière étape du processus, l'album est en attente et les news suivent dès que des solutions sontr trouvées permettant d'achever ce travail titanesque commençé il y a quandmême quelques longs mois
Stay tuned :-)
REEL WEB
Hello to you all!
The long awaited moment did not really happen on friday the 13th as this day had its load of surprises. Indeed the mastering studios was still suffering from the flood and all the electronic tools were still not functioning properly. So the band decide to go back to studio colors are search for alternatives.
So even if we are in the latest stages of the process, all is postoned until a greeat solution is beijng fouind to finalize the long months hard work, so stay tuned as more is coming.
REEL WEB