30.01.2012
"Monstroso": final stages ....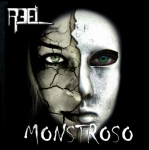 Bonjour tout le monde!
Le nouvel album est dans sa phase finale. Il reste encore quelques touches à faire avant qu'il puisse être disponible. Le titre "Baby Electric" que vous connaissez déjà sera bien sûr sur l'album démontrant une nouvelle orientation dans le son du groupe.
Encore quelques semaines et l'album sera à votre disposition pour tout le plaisir de vos oreilles :-)
REEL WEB
Hello to you all!
The album is in the final stages. Still some small details to solve and after that it will be ready. The title "Baby Electric" you already know, will be on it and giving you the hint of the new sound of the band.
So a few more weeks to go and the album will be available for you all to seduce your ears :-)
REEL WEB