20.01.2011
reelmusic.ch will be updated in a v.2011 !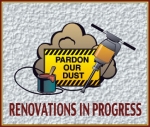 Bonjour tout le monde,
Ces prochaines semaines, le site du groupe reelmusic.ch sera updaté en version V.2011 pour répondre encore plus à vos attentes et surtout corriger toutes les erreurs pour repartir frais et dispo au 01.02.2011 :-) Donc le rendez vous est fixé pour cette date et espère que vous apprécierez le remaniement. Pendant ce temps là laissons les garçons continuer de travailler au sein du studio Colors.
REEL WEB
Hello to you all,
So the next couple of weeks, the band's website reelmusic.ch will be updated in its new V.2011 version to answer your expectations as many bugs have been encountered which needs fixing so taht we can fully ready with a fresh new start by february 1st, 2011. So the deadline is known and hope to see you then with the new website. During that time, the boys will be working hard in the studio Colors.
REEL WEB