22.03.2010
Work in progress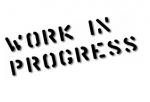 Bonjour tout le monde!
Le travail continue au sein du studio colors où le groupe avance avec grande satisfaction sur l'enregistrement de ce fameux 3ème opus! Toutes les prises de base sont faites et maintenant la concentration est rivée sur les parties vocales. En effet dûe à un gros rhume l'enregistrement fut repoussé de quelques semaines mais maintenant tout est normal et opérationnel.
Plus de news prochainement :-)
REEL WEB
Hello to you all!
It is work in progress at the colors studio where the band finisehd recording the basic tracks for the new songs. Everybody is very happy and eager to continue. Now it is now time to start recording the vocals part! This part was delayed for a few weeks due to a big stuffed nose but as all is better now, recording can start.
More news very soon :-)
REEL WEB