30.12.2009
Happy holiday season 2009 and see you in 2010!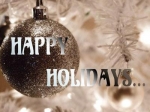 Bonjour tout le monde,
Le groupe fait un break pendant la période des fêtes et tout le monde vous souhaite d'en passer de belles fêtes. Ce sera un plaisir de se revoir en 2010!
REEL WEB
Hello to you all,
The band is taking a break during the holiday season and it is time to wish you some great ones and we will be all very glad to see you in 2010!
REEL WEB