10.02.2009
REEL on Restorm.com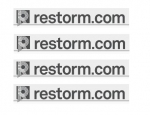 Bonjour tout le monde!
Petite news du jour est la suivante :-)
REEL se trouve sur le site de Restorm.com , une fenêtre web musicale sur l'Allemagne! Profitez de venir visiter le site de groupe!
REEL WEB
Hello to you all!
Small info today for you :-)
REEL will be on the Restorm.com website, a musical website dedicated to Germany. Check it out!
REEL WEB