15.12.2008
Time flies!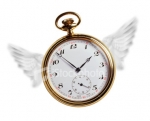 Bonjour tout le monde!
Que le temps passe vite en cette fin d'année 2008! Les news étaient rares mais le travail actif! En effet en ce moment la période est riche et nous vous donnerons les détails très très prochainement! Encore merci de votre patience!
REEL WEB
Hello to you all!
As the title says Time just flies by during this year's end! The latest news have been slow but nevertheless so much is happening right now and details will follow very soon! We promise you that! Thank you for waiting!
REEL WEB