30.10.2008
Kill ... your friends ?!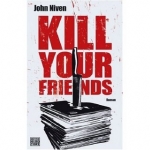 Bonjour tout le monde!
Nous profitons de la note du jour pour vous parler un peu de littérature musicale!
En effet nous vous conseillons et recommandons de lire le livre "Kill Your Friends" de John Niven qui donne une image très intéressante de l'industrie de la musique. Trop souvent la presse vous présente les histoires à succès ou les stars à succès par contre ce livre expose la face cachée de ce business! Un grand moment de lecture en perspective! Mettez du REEL comme musique de fond et laissez vous happer par ce livre :-)
REEL WEB
Hello to you all!
We take the opportunity today to talk a bit about music litterature!
Indeed we would like to present to you the book called "Kill Your Friends" of John Niven which present a very different picture of the music industry. Too many times you read about the success stories and the stars that truely have success. This Book will give you another side o fthe story of what is going on in the music industry!
So put some REEL music and enjoy it fully! You will see it is worth it!
REEL WEB