09.04.2008
Rehearsals ...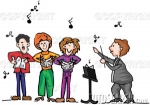 Bonjour à toutes et à tous!
Les répétitions vont bon train en ce moment pour bien préparer les chansons pour la scène. Le groupe va travailler des nouveaux titres du nouvel album pour intégrer et étendre la playlist permettant de faire des concerts de toutes durées possibles. L'atmosphère est bonne, détendue car il y a une vraie envie d'apporter quelque chose de solide et efficace en concert. Vous verrez bientôt tout cela lors des prochaines dates!
REEL WEB
Hello to you all!
Rehearsals are going on well right now for the band preparing and integrating new songs from teh new album into the playlist having what is needed to play all types of show length. Everything is going on very well as all band memebers wnat to bring the best out live on stage. You will see all on stage when the next gig dates are available !
REEL WEB