02.04.2008
Next round for REEL in the zicmeup.com 2008 contest!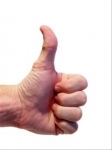 Voilà voilà voilà!
La nouvelle vient de tomber! Surtout grâce aux votes du public et à une prestation remarquée, le groupe s'est qualifé pour la finale régionale qui se tiendra le 19 mai prochain à Lyon; L'ultime étape avant la grande finale sur Paris le 08 juin prochain! Les news suivront!
Ce qui est sûr est que les votes sont ouverts et vous pouvez continuer de voter pour le groupe lui permettant d'être encore mieux positionner pour cette nouvelle échéance qui se prépare! Nous vous remercions de tout coeur!
REEL WEB
So so so!
The news just came in! Thanks to your votes & to the performance on stage the band is qualified for the regional final that will take place on May 19th in Lyon, the very last stop before the big final in Paris on June 8th. News will follow!
What is sure for now is that the votes are still open and you can continue to support the band to push them into the big final! Thank you for all!
REEL WEB