30.03.2008
Keep voting today 4 REEL tomorrow! :-)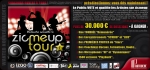 Bonjour à toutes et à tous!
Aujourd'hui plus que jamais vos votes sont importants dans le cadre de la participation du groupe au concours zicmeup.com 2008. Pour ceux qui peuvent passer, vous êtes attendus à l'adresse indiqué dans le lien dès 14h30! Rock and roll!
REEL WEB
Hello to you all!
Today is the day where your votes will count the most as the band is taking part in the zicmeup.com 2008 contest. So vote and for those who have the time to say hello, well you are welcome to come as of 14h30 when all starts! Roack and roll!
REEL WEB