01.02.2008
Under Construction ...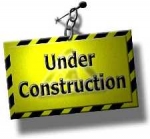 Le Studio Colors est toujours en transformation puisque une régie addtionnelle est créée plus une salle pour la prise des voix. Beaucoup de changements qui seront en principe terminés d'ici 2 semaines. Un reportage photos suivra encore pour vous montrer les changements importants!
REEL WEB
The Colors Studio is still under construction as some changes are being made to improve the studio. New rooms for recording voices and the main office are being redone to offer better services to all musicians. Some footage will follow to illustrate what is goind there. All should be finished within the next 2 weeks!
REEL WEB