23.01.2008
Sea, Sun and Dive ...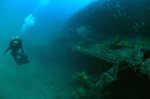 Petit coucou de BENE depuis la plage où il profite de faire quelques plongées pour son break anniversaire! Profite bien et reviens en superbe forme!
REEL WEB
BENE says hi from the beach taking a short break diving and enjoying his anniversary diving a bit and resting on the beach. Take care and come back rocking!
REEL WEB