26.12.2007
Keep voting for REEL on zicmeup.com!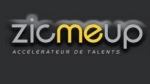 Bonjour à toutes et à tous!
Nous espérons que les fêtes se passent le mieux possible. Merci pour votre attention en votant pour le groupe dans le cadre du concours zicmeup.com 2008. Chaque vote est important et nous vous remercions du votre!
REEL WEB
Hello to you all!
We hope that all is going on well during the holidays. Thank you for your attention by voting for the band for the zicmeup.com 2008 contest. Each vote counts and is important so already thank you for it!
REEL WEB