19.10.2007
"One Way" will be the band's 1st single from "Dominion"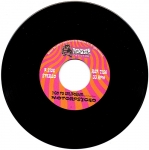 Aujourd'hui est une grande nouvelle pour le groupe puisque la chanson "One Way" sera le 1er single de l'album Dominion. D'ici quelques jours, le groupe tournera une vidéo pour cette chanson permettant d'avoir un nouveau support visuel dans la communication de la REEL music. Voici pour vous un sample et les paroles.
Sinon d'ici quelques jours, nous vous proposerons aussi une surprise pour mieux connaitre le nouveau single du groupe! Alors restez avec nous!
REEL WEB
ONE WAY:
Lyrics:ONE WAY.pdf
Today we have some great news for you all as the song "One Way" has been chosen by the band as 1st single from the Dominion album. In a few days the band will also work on a new video for the song which is a great promotional tool for REEL and the music. Here is the sample and the lyrics.
Also within the next days, we will be able to offer you a great surprise for you to get to know better the single of the band! so stay tuned!
REEL WEB