14.09.2007
Let There Be ... Dominion!
Bonjous à toutes et à tous!
Voici donc la fameuse pochette de l'album dont nous parlons depuis des semaines: Dominion!
La liste des chansons suivra sous peu dès finalisation de celle-ci!
Pour le moment, découvrez donc cette pochette!
REEL WEB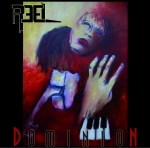 Hello to you all!
So finally here the famous and awaited sleeve for the new album we are talking about since weeks: Dominion!
The tracklist is being finalised and we will inform you about it as soon as possible!
Enjoy The sleeve!
REEL WEB