06.09.2007
Final Cut of Dominion!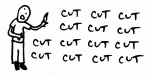 Bonsoir à toutes et à tous!
La coupe finale pour l'album Dominion aura lieu demain soir au Studio Colors. Donc encore pas mal de travail mais demain soir l'album devrait être dans sa version définitive. Et donc ensuite des tonnes de suprises pour vous à découvrir ici sur le site du groupe!
REEL WEB
Hello to you all!
The final cut of the album Dominion will take place tomorrow evening at the Colors Studio. Indeed still some work needs to be done but the album should be cut in its final version. And tons of surprises will be expecting you right here on teh band's website!
REEL WEB