13.07.2007
Friday the 13th: DO NOT panic!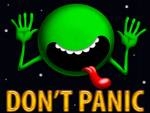 Wow ... un vendredi 13 ... Pas de panique! Rien n'arrêtera les boys de travailler en Studio! Vous pouvez compter sur tous les membres de REEL!
Par contre vous, attention car on se sait jamais! :-) Jason est peut-être dehors, quelque part! ;-)
REEL WEB
Wow .. a friday the 13th ... Well DO NOT Panic! Nothing will stop he boys from being in the studio and workingü You can count on all members of REEL!
But for your sake .. be careful .. you never know! :-) Jason might till be out there, somewehere! ;-)
REEL WEB