18.06.2007
Phling thing!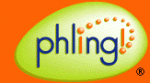 Comme vous le savez REEL essaye par tous les moyens d'être à la point de la technologie et des nouveautés dès qu'il s'agit de promouvoir sa musique! La dernières nouveauté découverte s'appelle Phling!
De quoi s'agit-il?
Alors Phling! est une application qui permettra à toutes personnes / labels / artistes de promouvoir sa musique qui sera ensuite possible d'être entendue sur les téléphones portables où l'application existe en mode stream.
Pour retrouver REEL? Tout simplement cliquer sur artists et chercher REEL! Toutes les chansons de l'album Lithium sont chargés et peuvent être entendus en mode stream sur les mobiles!
Une nouvelle façon de découvrir REEL et sa musique tout en étant mobile! Une sacrée nouveauté non?
REEL WEB
As you know REEL tries by every way possible using what is available as new technologoy and ideas, to promote its music! The latest new thing is called Phling!
What is it?
Well Phling! is a mobile application allowing people / bands / labels to upload their music which will be available to all mobile users where Phling! is present by listening to it using stream technology!
Where to find REEL? Simple indeed as in the application you will find the artists link and search for REEL! All songs from Lithium will be available to be listened to on all mobile phones supporting in application in stream mode!
Another great and new way to discover REEL and its music all by being fully mobile! Great idea isn't it?
REEL WEB