04.05.2007
10.05.07 - Live in Tramelan, Switzerland!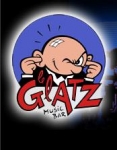 Voici une nouvelle qui fait plaisir et qui vient de tomber!
REEL live le 10 mai prochain à Tramelan, Suisse dès 22h30 au Glatz Bar! venez nombreux tout simplement pour un pur concert REEL!
REEL WEB
Here is a true great news that just came in!
REEL live on May 10th 2007 in Tramelan, Switzerland around 10:30 pm at the Glatz Bar! Come in numbers, we need there for a A true REEL concert!
REEL WEB