30.04.2007
Happy Birthday Jul!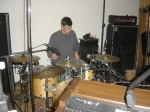 Joyeux anniversaire Jul!
Que le meilleur pour cette nouvelle année qui commence pour toi! Quelle soit aussi riche que la précédente!
REEL WEB
Happy Birthday Jul!
We wish you only the very best for you for the new coming year! We hope it will be a rich one!
REEL WEB