25.03.2007
BENE trusts pickfactory.com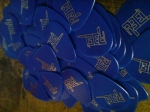 Une nouveauté dans le matériel musical de BENE. En effet il a fait confiance a pickfactory.com pour les plectres de guitare qui sont customisés avec le logo du groupe
Une première!
En tout cas le résultat est superbe et les premiers essais sont en cours pour tester la qualité de ces plectres par des sessions guitare très soniques!
REEL WEB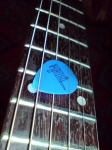 Something new in BENE's gear! Indeed he trusts pickfactory.com to customize his guitar picks with band's logo REEL.
A first!
The result is really great and right now we have ongoing sessions highly sonic to test those picks!
REEL WEB