18.03.2007
Nu Music stuff for BENE's gear!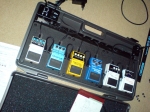 Finalement la musique cela est un peu comme l'informatique! On peut toujours avoir un version de base mais des fois des mises à jour sont nécessaires. L'équipement de BENE a connu quelques changements avec l'introduction du pedal board (tout en un, moins de fils et de prises électriques, cela ne traine plus par terre ... que des avantages ...) plus quelques modifications concernant les micros de la gratte de BENE. Introduction d'un micro double bobinage permettant d'obtenir un son avec plus de pêche, de corps et de soutien dans le son!
En tout cas et cela lors des divers essais effectués, cela déchire! Le son qui déchire :-)
REEL WEB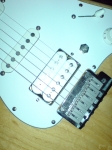 At the end of the day music is like computers! You might have a standard version but you always need new stuff and upgrades! BENE's music gear just got a face lift with the addition of the pedal board (all in one, less jacks and electric cables running around on the floor, a cleaner presentation easy to use ... only advantages ...) and some modifications of the guitar's mics. The additional of a humbucker mic will add more depth, more richness and sustain to the sound.
And as tests already took place we can say it kills! The killing sound :-)
REEL WEB