04.01.2007
... approved by Playboy.fr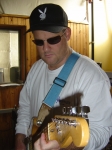 Voici une petite information qui a tout son charme et qui est à 100% exacte! Eh oui ceci est véridique et nullement un canular!
Dans sa vie professionnelle BENE a eu l'occasion de rencontrer les responsables de PLAYBOY France qui sont de fervents adorateurs de musique et l'album Lithium a connu une écoute attentive et soignée. Le commentaire fut de toute grande classe puisque PLAYBOY approuve la musique de REEL. Une consécration non?
REEL WEB
Here is a small info for you all which has its charm and is 100% true! Yes indeed it is the truth and no hoax!
In his profesional life BENE has met the managing people of PLAYBOY France who are true music lovers. Of course they gave Lithium a chance to be listened to and the super comment was is that PLAYBOY approved REEL's music. Isn't it like winning an award?
REEL WEB