28.12.2006
Father & son !?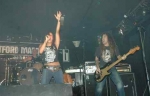 Une grande surprise fut de voir la fille de Steve Harris, Lauren Harris, en 1ère partie de la tournée de Maiden avec un répertoire très percutant. Très rockeuse et proche de son public, cela fut bien sûr pour elle une aubaine de jouer devant tant de monde. Bien sûr on peut toujours dire vive papa mais il faut toujours avec le courage de monter sur scène et de faire un show qui tient la route et qui puisse satisfaire les fans avant le grand moment. En tout cas chapeau bas!
Toujours intéressant de voir les diverses relations Père & fils, dans ce cas Père & fille, existantes dans le music business et je dois dire que celle ci doit bien fonctionner. En effet il semblait que la pression n'existait pas tout simplement la musique parlait.
Si je peux comparer, mon père n'était pas musicien du tout mais heureusement qu'il était amateur de musique rock ... Quelques disques de Bob Dylan ou de Pink Floyd trainaient dans la discographie me permettant une 1ère approche à la musique rock. L'année 1980 fut déterminante pour moi avec la découverte d'AC/DC le jour de la mort de Bon Scott (un mercredi ... émission studio 6 présentée par Patrick Sabatier et Trust comme invité chantant .. Antisocial) ... et bang le rock entra dans la peau de plein fouet! Quelques mois plus tard sur une cassette une certaine chanson "Killers" et la photo d'un bassiste portant un pantalon hyper collant blanc et noir, cela fut la découverte de Maiden ...
Depuis cela fut digne d'une montagne russe, vive le rock!
BENE
One of the great surprises during that Iron Maiden concert was to discover Lauren Harris, the daughter of Steve Harris the bass palyer of the band with a quite good show. Very rocky and near to the audience which of course was a good chance for her to play in front such a huge audiense. Thanks dad we would all say but at the end you need to be steady on that stage and make it work. So bravo great show.
Always interesting to see those Father & son relations in the rock busines, in that case father & daughter but it seems that it functions quite well. No much pressure felt as the music did its talking!
If I compare my dad was no rocker musician nor palyed any instrument but at least we listened to some rock music .... Some records (LP) of Bob Dylan and Pink Floyd were part of his collection which gave the very first approach to the music. But it was later in 1980 when I saw AC/DC for the very first time on TV. I remember it was on Bon Scott's death that a TV show called studio 6 played soem AC/DC videos and a band called Trust played Antisocial live! What a sound! It hit me big time! Rock was in my veins! Later came the discovery through a tape with a certain song" Killers" and a huge bass player, It was the discoevry of Iron Maiden ...
Since then it was a roller coaster ride! Long live rock!
BENE