21.10.2006
Why?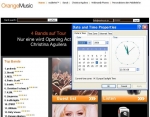 Bonjour à toutes et à tous!
Pour pouvoir terminer le chapitre de ce soncours qui laisse un gôut très amer dans la bouche car en effet voici les résultats indiqués sur le site et comme vous pouvez le constater à quelques minutes de la fin de votes, le groupe se trouve en 3ème place avec plus de 1600 votes à son actif. Mais finalement pour des raisons obscurs le groupe ne pourra se présenter à ce fameux 2ème tour. Nous avons demandé des explications et attendons bien sûr une réponse de la part du comité d'organisation. Ce qui est bien le plus frustrant est de voir que finalement il existe un règlement mais qu'il n'est de loin appliqué.
Bien sûr que la déception est grande mais bon le groupe ne se laisse pas abattre car il y a encore tant de choses à faire et à vivre! Tout simplement merci à toutes et à tous de vos votes qui permettent d'obtenir un résultat plus qu'honorable pour une 1ère participation à un tel événement. Comme vous le savez maintenant plus de 400 groupes étaient inscrits et terminer selon les votes dans le top 20, cela est déjà un super résultat!
KEEP ROCKIN'
REEL WEB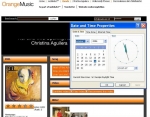 Hello to you all!
So that we can close the chapter about that contest the band entered which of course leaves a very bad taste in all the musician's mouths, we want ot give you the results that appeared on the website a few minutes before the vote's closing. As you can see we were at 3rd place with more than 1600 votes but did not make make it for that 2nd round! Well we asked for explanation we hope to receive one day and all is quite frustrating as the rules and conditions were not applied.
Of course, even if the deception is very big still many good things to come for the band so nobody's dropping the weapons and the fight will go on to make it. Still thank you to you all who voted for us and we believe that the result is still very good when you know that more than 400 band entered the contest. So to be in the top 20 well that ain't bad at all!
KEEP ROCKIN'
REEL WEB