24.09.2006
You got the word!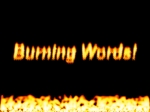 Bonjour à toutes et à tous!
Aujourd'hui et ceci après tous ces mois de présentation des membres du groupe, de la musique de REEL, de l'album, de tout ce qui anime la vie de REEL, nous vous donnons la parole! Vous qui êtes si nombreux depuis le début, à vous la parole exprimez-vous! Nous attendons vos commentaires, vos impressions, vos mots tout simplement. Soit via la fonction comments ou directement sur l'adresse email du groupe!
Lâchez-vous! :-)
REEL WEB
Hello to you all!
Today and after all those onths we have spent presenting you the band's members, the music, the album, all that is part of REEL's daily life, it is up to you now! We give you the word so you are invited to express yourself! You that have been so many since the start we invite you for your comments, your thoughts and all you want to share with us! We are expecting you£! You can do it either via the comments box or simply write us an email via the band's email!
SO let yourself go! :-)
REEL WEB