24.05.2006
Something new in BENE's arsenal!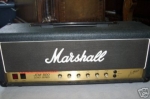 Dans la vie d'un groupe même le matériel peut aussi évoluer! En effet BENE vient de faire l'acquisition de deux têtes Marshall JCM 800 2203 MK2 avec 2 HP 1960A. De la grande classe sonore donc puisque ce type de tête d'ampli est utilisé par les tous grands même si effectivement le matériel date des années 80!
Dans quelques temps, après les divers essais en studio, nous vous donnerons le set-up de BENE qui sera utilisé lors des LIVE de la tournée LITHIUM. Aussi pour tous les fans de grands guitaristes, le site guitargeek.com est là pour vous révéler les secrets des plus grands! Regardez cela de près, cela en vaut la peine!
REEL WEB
During the life of any band, changes happen even with the musical stuff. Indeed BENE just acquired 2 Marshall JCM 800 2203 MK2 with 2 HP 1960A. Big sound that will be as the head amp is known in the music world as being the amp of all times even if it was produced back in the 80s!
Soon we will give you the setp-up that BENE will use during the LIVE shows for the LITHIUM TOUR as soon as the needed checks have been done in teh studio! It is going to blast!
Also for all fans, you can always check out guitargeek.com as the site will reveal to you all set-ups for all great guitarists! A great site to enjoy!
REEL WEB