19.05.2006
No Catch Mouse Blues!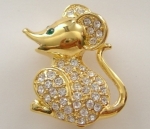 Reelmusic.ch en qualité de blog, ne fait pas partie des nominés pour le GoldenMaus Award 2006! Nous vous avions communiquer cela il y a quelques semaines de notre participation à cet événement! Bien sûr que nous sommes déçus de cela mais rien n'arrêtera le développement bloguesque de REEL!
Reelmusic.ch as blog is not part of the nominees for the GoldenMaus Award 2006! We have informed you about our entering the competition a few weeks ago! Of course we are disappointed but nothing can stop the blog adventure of REEL!