10.12.2005
Baking ... again!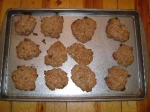 Voici les dernières nouvelles du front!
Le nouveau red book et son back up sont bien arrivés en Allemagne et la production de ce produit aussi délicieux que subtil peut enfin commencer! Une excellente nouvelle donc! Le suspense reste entier jusqu'au bout mais nous sommes maintenant convaincus que le dernier bout de la ligne droite est devant nous. Plus que quelques jours et "Lithium" sera à votre entière disposition!
Latest news from the field!
The new red book and its back up have arrived in Germany and production of the super delicious product is starting. A great news indeed! But the suspense like a crazy thriller remains intact as we will be fully convinced only when "Lithium" is here available for your all. It is the last line of the last line ... It is a close as it can get!
REEL WEB