07.12.2005
Voodoo REEL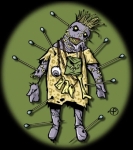 Le groupe REEL subit il un rite VOODOO?
La question est ouverte!
En effet alors que tout semblait aller si bien voici que les problèmes arrivent et les solutions tardent à se dessiner!
Il y a quelques jours nous vous informions que le fameux red book était inutilisable pour créer le fameux glasmater, CD permettant la production de masse, et qu'un remplaçement était nécessaire! Tout semblait être résolu mais non le nouveau red book n'est pas produit, pas de contact avec le mastering studio, impossible de joindre quelqu'un ... Un sort est il jeté sur le groupe? Que faire? Se munir d'eau bénite et asperger toute personne s'occupant du groupe afin d'exorciser ce sort?
Pas de réponse pour le moment ... Le plus grand souci est que la production n'est toujours pas commençé et le tout se fait sérieusement attendre! Le pire est que vous devez en pâtir de cette situation fort désagréable! Aussi pour le groupe car pas mal de choses sont prêtes concernant la communication et le marketing de l'album!
Une chanson sur le sujet "Voodoo" s'impose! sacrée frustration! Nous vous tenons au courant du développement de la situation!
Is REEL band under a VOODOO spell?
Well all seemed to go so well until now but strange problems appear and no solutions are available for the moment!
A few days ago we informed you about the famous red book. We can not use it to produce the glasmaster CD allowing to go into production. A new red book was suppoed to be produced and sent to us. Never arrived! we called up the mastering studio: nobody available, nobody home! is there a spell on the band? What to do? Do we need to use some holy water on all people working for the band to break the spell?
No answers for the moment ... The main worry is that all is ready and the production has not even started yet! Our main worry is for you having to wait some additional time before being able to get a hold of a copy!
A song about "Voodoo" needs to be written! So frustrating! We keep you informed!
REEL MANAGEMENT