16.01.2006
JackHammer ...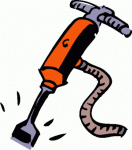 Une petite idée musicale me vient à l'esprit avec un titre pareil! Après le Sledgehammer de Peter Gabriel et le Hellhammer du groupe Accept ... Pourquoi REEL n'aurait pas son propre Hammer sous la forme d'un Jackhammer ... L'inspiration me vient ... cela sera certainement un morceau instrumental avec ce titre ...à garder pour le futur!
Sinon d'ores et déjà je profite de faire un petit cadeau pour toutes celles qui aiment le pillonage et qui découvrent dieu lors du moment crucial: jackhammer_20jesus.jpg
Enjoy ;-)!
BENE
Well a new musical piece comes to live in my head with such a great title! After the Sledgehammer of Peter Gabriel and the Hellhammer of Accept ... well why should not REEL have its own hammer ... and why not a Jackhammer! Inspiration takes me ... This will certainly be a musical piexe .. something that rocks bad .. to keep for the future!
But I can already make a little gift to all that love to be hammered and see God in the most crucial moment: jackhammer_20jesus.2.jpg
Enjoy ;-)!
BENE