08.11.2005
Backstage ...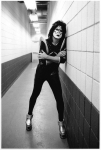 Que se passe t-il en ce moment dans les coulisses de REEL?
La situation est assez speed en ce moment car comme vous le savez maintenant l'album est mastérisé et prêt pour partir sous presse. On termine ces jours tout le concept visuel autour du CD. Tout cela sera remis prochainement à CD's AP pour commençer la production.
Nous travaillons aussi sur les divers points de ventes pour le CD: shop online, e-commerce, digital download etc ... Diverses options sont en cours de finalisation qui permettront rapidement la mise en vente du CD à vous tous où que vous soyez: en Suisse ou quelque part sur la planète terre! Ce jour n'est donc plus très loin. Nous pensons que d'ici la fin de ce mois tout sera prêt pour commercialiser le produit et de vous en faire profiter dans son intégralité.
Nous travaillons aussi sur plusieurs contacts pour préparer la scène ... eh oui des LIVE se présentent à REEL mais tout cela sera pour 2006 seulement. Une rubrique spéciale sous * REEL on Tour sera dévoilée dès que les toutes premières dates seront connues. Nous vous donnerons le max d'informations vous permettant de découvrir le groupe selon les dates concrétisées.
What is going on backstage for REEL?
Right now we are at full speed since the album is finished, mastered and ready to go into production. We are finishing the complete artwork around the album and all with go into press soon at CD's AP.
We are working hard by organizing the sales & distribution of the CD: shop online, e-commerce, digital download etc ... As of now we have several options being finalized and as soon as we know, you will know about it! We want to give the chance to everyone around the world to get a CD. This day is not far away anymore. We believe that in the next 2 to 3 weeks all will be done and finalized for distribution.
We are also working hard for the LIVE shows ...yes REEL will be on tour but all will be possible in 2006 only. We will inform you in a new category * REEL on Tour when you will find all the news as soon as it is available. It will give you the chance to discover the band live and ready to rock!
REEL MANAGEMENT