09.11.2005
REEL goes mobile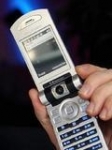 Bonjour à toutes et à tous,
Il y a du nouveau au sein de l'équipe REEL! Nous tenons à vous informer que les premiers services MOBILE de REEL sont en cours de préparation. Nous vous tiendrons au courant de la nature de ces services et des divers supports qui seront mis en place par nos soins!
Hello to all of you,
Something new within the REEL team! This is to inform you that we are ready to finalize the first MOBILE services of REEL. We will inform you accordingly about what type of services will be available and when they are running!
REEL MOBILE