10.10.2005
Re-Sliced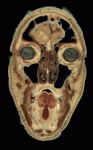 Que de travail ce weekend!
En effet pas moins de 5 morceaux supplémentaires sont passés sous le couperet pour prendre une forme presque définitive! Du sacré boulot! En fait il est difficile de s'imaginer le temps que l'on peut passer sur une piste de musique pour la rendre belle, la nettoyer, enlever les bruits de fond, éliminer les nuisances sonores etc ... Que de temps! Mais bon l'investissement est à la hauteur du projet puisque la qualité est souhaité et tout est mis en oeuvre pour l'obtenir.
Les pistes sont aussi boostées au max pour faire sortir le meilleur du meilleur comme son mais le gros risque reste de ne pas trop charger tout cela! En effet la magie du mastering veut que plus une chanson est simple donc non boostée, plus facile elle sera à mastériser. Entre nous le mastering fait tout tout tout ... cela transforme un truc plat en bombe sonore ... cela est la destination où nous allons avec l'album ... vers une bombe sonore pure!
Work work work has been the key word for this weekend spent in the studio working on the songs.
Another 5 additional ones were cut, sliced, mixed and boosted to be as good as possible. A great job has been done! It is also almost impossible to imagine how time consuming it can be working on one wave, cleaning it, slicing it, eliminating bad frequencies etc ... Mind taking! But at the end isn't what we want to achieve ??? have a killer album ???
All tracks are now boosted to the max in order to have the best of the best but the main risk is too much boosting. This can be a bad thing as too much of it is not good during the mastering process. A mastering can be even greated when the songs come flat as the mastering process is the key to it all! And that's where we are heading ... to have a sonic killer album!
En ce moment le processus d'écoute est à son max. Tous les supports sont utilisés pour être à 100% certain de la qualité du mix choisi. Jeudi 13 octobre nous passerons une dernière fois toutes les chansons au peigne fin pour enterriner notre choix! De là le CD master naitra, ce CD qui sera ensuite mis à disposition de l'équipe de mastering. ce mastering aura lieu au greenwood studios à Basel. Un monument du mastering et des voix ... un site à découvrir! Nous vous en parlerons le moment voulu!
Right now we are in the listening process. We listen to the songs on all kind of devices possible. This is to know if the mix is right, that the balance is good for all songs. A long process a lot of listening which is indeed great! We are convinced that for our ears, it will be the most listened album of all times! On thursday 13th, we will put the final touch on all songs going through them once more in order to be sure of the choices made! Then from that session the CD master will be born. It will be that CD which will go through the mastering process. The mastering team will be greenwood studios based in Basel. A great studio, the greatest in Switzerland. We can wait to tell you more about that experience!
We are almost there ... feels like a 400m hurdle ... still 50 m to go to win the race!
Nous y sommes presque ... cela ressemble à un 400 m haies ... il reste les 50 derniers mètres pour gagner la course!
REEL