01.05.2011
mixing the album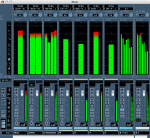 Bonjour tout le monde!
Suite à un incident technique le nom du nouvel album est déjà connu, ce qui est en fait pas si grave que cela puisque c'est bîen le nom correct de l'album par contre la communication est intervenue un peu tôt, puisqu'il faudra encore patienter un peu avant la sortie officielle de ce dernier.
En effet le groupe est en studio en train de mixer l'opus et tout se passe nickelement bien même s'il reste du travail.
Aussi le groupe travaille sur le design et le concept de l'album au niveau du livret et dès que tout est prêt à être divulguer, vous en aurez la primeur ici sur reelmusic.ch :-)
REEL WEB
Hello to you all!
So due to a technical malfunction the new album's name is already known for all which is actually not a bad thing because it is the name of the album, but it was communicated a bit early. So patience will be needed until the final work is done and the album is ready.
Indeed the band is in the studio and mixing the album. All is going well but still much work to do is needed before all is done :-)
Also the band is working on the artform and cover of the album so everything will be shown to you all when all is ready and you get 1st hand news here on www.reelmusic.ch :-)
REEL WEB