10.11.2009
Crossroads ...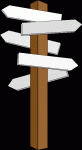 Bonjour tout le monde!
Voici quelques nouvelles toutes fraiches de ce qui se passe au sein du groupe. En effet ces derniers temps la vie a pas mal chahuté les différentes membres du groupes pour des raisons diverses et donc un break fut nécessaire. Les heures studios peuvent être des moments superbes mais aussi être la source de de tensions.
Soyez rassurés, rien n'est remis en cause. Parfois on se trouve aux croisements et des choix doivent être faits, le plus simple est de faire un pause ce qui fut fait pour pouvoir aller de l'avant!
Des news suivent prochainement :-)
REEL WEB
Hello to you all!
Here are some fresh news from what is going on inside the band. Indeed lately the life of the band members came to some crossroads and for different reasons a break was needed. Hours of studio recording came be wonderful but also the source of tensions.
But be reassured nothing is put aside, the needed break is been done and sometimes in life you need to stop for awhile before going on!
More news will follow very soon :-) !
REEL WEB