19.01.2009
Happy Birthday BENE!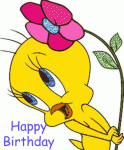 Une nouvelle fois et une année de plus!
Joyeux anniversaire à notre guitariste qui fête son 41ème anniversaire! Eh oui le temps passe mais l'esprit rock n' roll reste intact!
Cheers man :-)
REEL WEB
Once more for another year!
Happy birthday to our guitar player who celebrates his 41st birtdhay! Time flies but the rock n' roll spirit is more alive than ever!
Cheers man :-)
REEL WEB