31.12.2008
Let's Rock in 2009!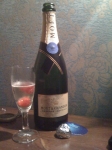 Happy 2009!
Toute l'équipe de REEL WEB vous souhaite une excellente année 2009 qui sera reelesque :-)
Faites sauter les bouchons de chanpagne et à toutes et à tous, santé!
REEL WEB
Happy 2009!
The whole REEL WEB team wishes you a great year 2009 which will quite reelesque! :-)
So open the bottles and taste the bubbles! Cheers to you all!
REEL WEB