20.08.2008
Swiss guitars by Duvoisin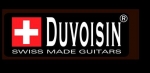 Bonjour tout le monde!
BENE était en visite il y a quelques jours des locaux et de ateliers de Duvoisin Guitars, Swiss made guitars. Eh oui même les suisses fabriquent des guitares de superbes qualité. Pour BENE ce fut bien sûr une superbe expérience de pouvoir suivre un peu le long processus de fabrication de ces instruments superbes que sont les guitares électriques!
REEL WEB
Hello to you all!
BENE visited a few days ago the Duvoisin shop where they build real swiss homemade guitars! Yes it is true Swiss also make guitars of true great quality! For BENE a real experience to see the entire production chain and a bit of that long process in building this true great instrument!
REEL WEB