19.05.2008
On the road to Lyon!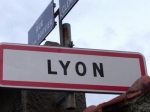 OK!
Le grand moment tant attendu est enfin arrivé! Le groupe est en route pour Lyon. Après une dernière répétition de qualité, ils sont tous prêts et l'excitation est grande! Direction Lyon donc pour se qualifier direction Paris pour la grande finale dans le cadre du concours zicmeup.com 2008. Concernant les résultats nous vous tiendrons au courant dès que nous recevons une information. Par contre vous pouvez continuer à voter pour le groupe car chaque vote compte pour permettre au groupe de se qualifier. Merci pour votre soutien!

REEL WEB
Ok!
So the big moment has arrived and the band left direction lyon to participate at the regional final of the zicmeup.com 2008 contest. Lyon is the last stop before the big finale in Paris. So we keep our fingers crossed, on the site you can vote for the band as each vote counts allowing the band to qualify. Thanks for all!
REEL WEB