01.05.2008
NRBC ?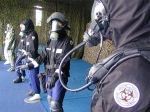 Bonjour tout le monde!
Une nouvelle news du jour qui concerne notre Bene national! En effet lors de son dernier service militaire à la base aérienne de Payerne, il a été promis comme nouveau chef NRBC de la BA 11. Toutes nos félicitations et excellente carrière dans ce domaine!
REEL WEB
Hello to you all!
The news of the day concerns our Bene! Indeeed during his last military duties at the air base in Payerne, he has been promoted new Chief NRBC at the AB 11. Congratulations and we wish the best of career in that new field!
REEL WEB