22.03.2008
Vote for REEL!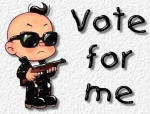 Bonjour à toutes et à tous!
Voici le lien pour continuer de voter pour le groupe dans le cadre du concours zicmeup.com 2008! En vous remerciant de votre soutien quotidien! Merci!
REEL WEB
Hello to you all!
So here is the link to keep voting for the band taking part at the zicmeup.com 2008 contest! Thank you again for your daily support! We need it and thank you for it!
REEL WEB