04.02.2008
A Million thank Yous!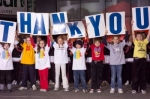 Un million de fois merci pour avoir visionné la vidéo de "Heat of the Action" plus de 3000 fois sur wideo.fr et presque 1000 fois sur youtube.com! Tout simeplement superbe! Vous êtes les meilleurs!
REEL WEB
A million times thank you to have seen the "Heat of the Action" video over 300 times on wideo.fr and almost 1000 times on youtube.com! That is perfect and super great! You are the best!
REEL WEB