07.01.2008
Sonic Noiz ...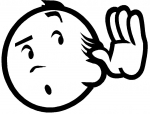 Bonjour tout le monde!
Petit info du jou pour dire que BENE est back in business! En effet les murs du bocal ont tremblé à l'attaque sonique de sa guitare. Entrainement parfait permettant de bien préparer l'année 2008 avec beaucoup de choses en perspective!
REEL WEB
Hello to you all!
Small info as BENE is back in business! Indeed the walls of his pit were under a strong sonic noise attack as the guitar screamed. A good training to get back in shape and on the horse to prepare at best 2008 with all the new coming stuff!
REEL WEB